2014 U.S.-China CERC-BEE Annual Workshop Evaluates Achievement and Looks to Next Phase
The U.S.-China Clean Energy Research Center Building Energy Efficiency (CERC-BEE) Consortium held its annual workshop on August 25-26 in Berkeley, California to evaluate performance of its 12 joint research projects and plan the future of the consortium after this high-profile program ends its first phase of work in 2015.
About 90 researchers, industrial partners and experts, and government officials from the U.S. and China attended this year's workshop. The CERC-BEE program is in its fourth year of the five-year operation that started in 2011 after joint initiation by the presidents of both countries.
In the first day of the workshop, 12 project leads, representing their U.S. and Chinese teams working on advancing technology in building envelope, building design and operation, building equipment, building policy and market promotion as well as microgrid and renewable energy integration, presented mid-term progress, achievements, and challenges. Researchers also responded to questions and feedback from the ten-person U.S. Technical Review Committee and other participants concerning technical achievements, commercialization, mass market adoption, field data collection, and applicability of several advanced technologies in the U.S., Chinese, and global markets that have been developed under the program.
Richard Diamond, the review committee chair, said that it's good that each team "has found niches and offers something new," and he encouraged all the teams to continue to "demonstrate and seek out more opportunities for synergy and benefit to both countries." Nan Zhou, the CERC-BEE U.S. Director and the China Energy Group deputy group leader, reported "25 patents have been filed, 6 product launched, 8 codes been adopted, and 2 new business partners joined this year." She believes the program is a sustainable partnership and could deliver 100 million tons of CO2 reduction by 2025.
CERC-BEE China Director, Junqiang Liang from China's Ministry of Housing and Urban-Rural Development, spoke of the five demonstration building projects, presented on the second day of the workshop by five Chinese companies. The projects have included technologies developed in the program including lighting controls, ground source pump heating system, air barriers, and liquid flashing, recognizing Chinese companies' central role in showcasing research results. Rob Nachtrieb, the Chair of U.S. Industrial Advisory Board and also the lead scientist from Lutron Electronics and lighting control project partner said, "Lutron's participation in the program gives it access to world-class research facilities," whereas the demo projects gives it a chance to "demonstrate its products to the market and the highest level of the government."
Robert Marlay, from the U.S. Department of Energy and the U.S. Director for three programs (including CERC-BEE) under CERC, encouraged the consortium to leverage existing resources and invite more business partners to join the program. Several technical reviewers also encouraged a shift from individual technology towards integration of technologies or system solutions with business models to scale up technology penetration.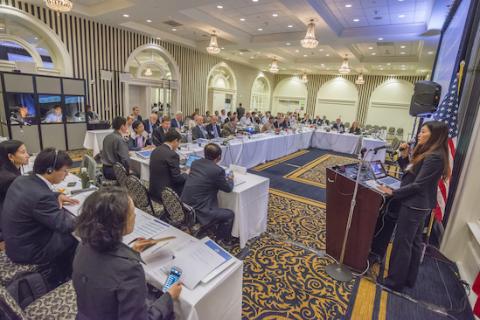 Nan Zhou, the CERC-BEE U.S. Director and the China Energy Group deputy group leader, chaired the two-day workshop.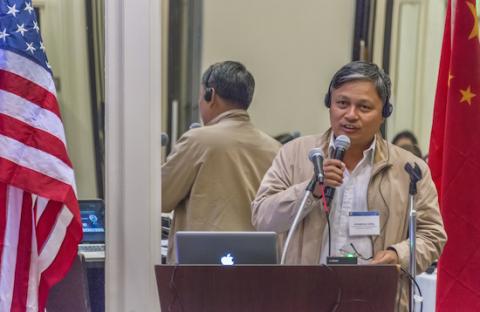 Junqiang Liang, CERC-BEE China Director and from China's Ministry of Housing and Urban-Rural Development, spoke at the workshop.