CERC-BEE Hosted Policy and Markets Planning Meeting on "Uncovering Barriers and Solutions to Building Energy Efficiency" in Shanghai
October 22, 2016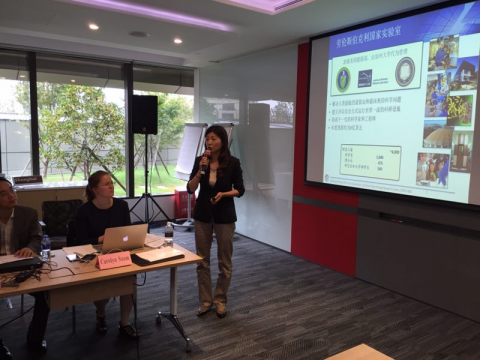 On October 20th, US-China Clean Energy Research Center, Building Energy Efficiency (CERC-BEE) hosted an workshop on "Uncovering Barriers and Solutions to Building Energy Efficiency" in Shanghai, China.
The workshop sought to obtain a 360 degree perspective on the critical barriers and most promising solutions to advance building energy efficiency retrofits in China. Approximately 50 stakeholders participated in the workshop, including government officials, bankers, researchers, consultants, building owners, property managers, energy service providers, investors, and venture capitalists. Participants discussed factors preventing increased investment in building energy efficiency, such as insufficient payback and low return on investment (ROI) and the most effective solutions. The workshop also introduced a new pilot program currently in the feasibility stage – The China Better Buildings Pilot Program – a voluntary energy efficiency market transformation program modeled after the U.S. Better Building Program which aims to reduce energy intensity in the Chinese buildings sector by 20% over ten years.
Dr. Nan Zhou, Deputy Group Leader of the China Energy Group at the LBNL, Carolyn Szum, Program Manager of CERC-BEE, and Dr. Wei Feng, Principal Scientific Engineering Associate at the China Energy Group of LBNL made presentations at the meeting. Dr. Nan Zhou introduced the LBNL and the CERC-BEE program. Carolyn Szum introduced CERC-BEE Markets and Policy Initiative, presented a general summary of barriers to building energy efficiency, and a case study on overcoming technical and recognition barriers. Dr. We Feng presented opportunity and technical solutions in Better Buildings Challenge program.
All discussion (unless requested otherwise) during the meeting will be summarized in a research report which will be made available to participants to support forthcoming policies and initiatives led by the Ministry of Housing and Urban-Rural Development (MOHURD) and U.S. Department of Energy (DOE) on building energy efficiency.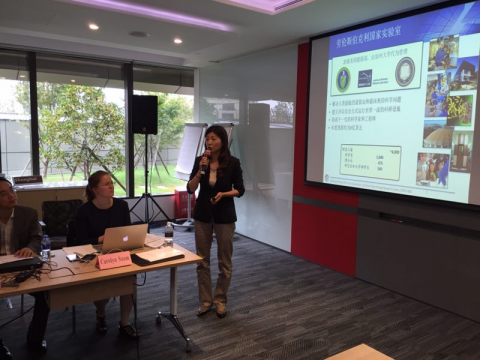 Dr. Nan Zhou gave an introduction of LBNL and CERC-BEE.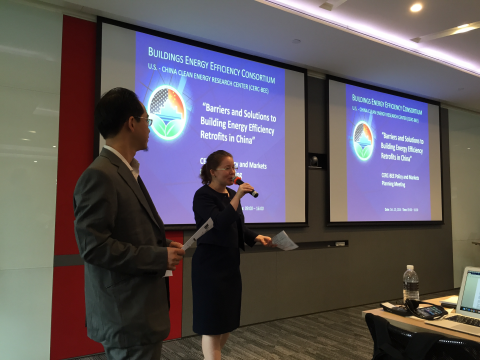 Carolyn Szum made a presentation on barriers and solutions to building energy efficiency retrofits in China.